In the music education world, there has recently been a debate about which is more beneficial to elementary aged students- learning the recorder or ukulele?  Luckily, our students at the German International School have the benefits of both instruments!
In the second half of 2nd grade students at GIS start the soprano recorder.  This has long been an elementary music class instrument in both the US and Germany.  In our school I have been using a really fun and motivating curriculum entitled "Recorder Karate."  If completed it teaches proper usage for most of the instrument's playing capabilities! 
The recorder is a terrific first wind instrument for a child.  It sets up breath support and hand position that are basic to a band wind instrument that might later be played.  A decent instrument is also inexpensive and easily replaceable—a much easier choice for a parent than losing something that costs, at the least, hundreds of dollars!  Finally, we can really delve into relevant note reading of the treble clef.  I believe it's always important to connect the written language of music to the actual playing of music, and the recorder is a great vehicle for this.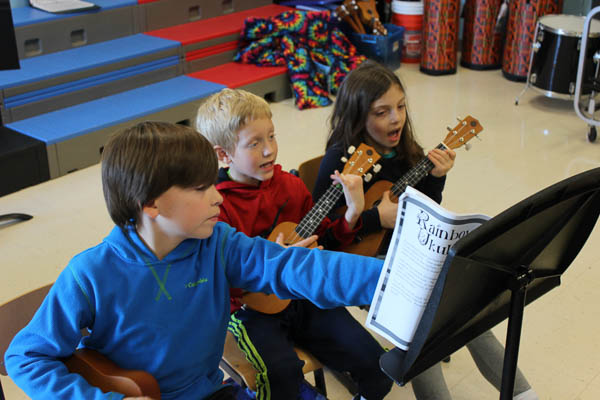 The ukulele is a wonderful first string instrument for a child.  At GIS, we play the ukulele starting in 3rd grade, but it could be learned by students who are much younger as well.  I love this instrument because it lets us learn to play both melody and harmony.  Students learn to accompany themselves when singing and with just a few chords have a vast repertoire of music that they can explore.  They also build finger strength and dexterity which is a great set up for picking up the guitar at the end of 4th grade here at our school.  Learning the ukulele strengthens traditional music reading and lets us explore reading tablature as well.  Finally, the ukulele, like the recorder, is a relatively inexpensive instrument and quite portable!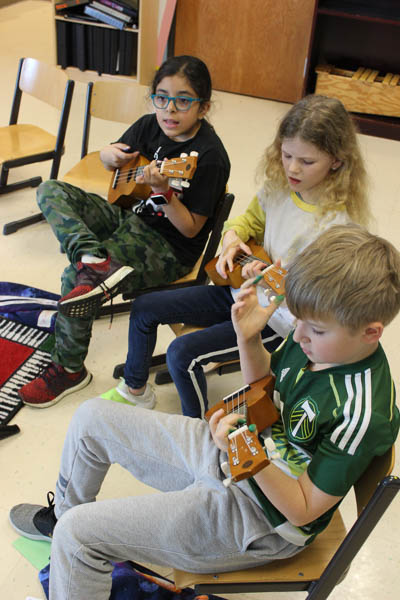 I could go on about why I love the recorder and ukulele!  Of course, some students do prefer one or the other, which is why I'm glad to provide exposure to both at our school!   And, as the parent of a budding musician myself, I know the beginning sounds on either might not be the most melodious!  But with your patience, support, and a child's practice they can be played quite beautifully.  In every case, you can be assured that learning these instruments help form a sound foundation for music performance and literacy!