At the German International School, we educate well-rounded, global citizens from Preschool through fifth grade. 
Learn how our mission, philosophy, school environment, curriculum, and school organization inform how we educate our students.
Campus Evolution
Years in the Making
In our 22 years as an established immersion school, we have grown from educating a small group of children to a community of 200 students and their families!
Back in 2016 the Building Committee, who is responsible for ongoing maintenance and long-term planning for the campus, engaged a team of professionals to do a full assessment of the school's mechanical systems (HVAC, plumbing, electrical, etc.), exterior envelope (windows, roof, siding), and properties (hazardous materials, oil tanks, subsurface soils).  The most pressing need was established as the exterior envelope.  
After gathering initial estimates and design ideas, a contractor and an architect were chosen. Their initial concepts were the basis for the German government grant application that was submitted. On October 22, 2017 we received the exciting news that we had received the grant from the German Government to improve our facilities. With the grant approved, the next phase of project development (detailed estimates, drawings, financing options) began.
On April 6, 2018 the GIS board formally voted on approving contractor choice, architect, and a budget to execute on the project.  
With growth, conservative fiscal management and strategic oversight, GIS is now in a position where it can start phase 1 of its evolution plan.
Phase 1 - Exterior - Summer 2018
You'll see new and improved replacements for the siding, windows, roof, and signage. We will also be adding a new entrance to the lunchroom from the playground. Stay tuned for updated timelines, details, images, and more on this exciting step in our schools development. Click on the image below to check out the mock-ups for the remodel!
Behind the Scenes
This is the biggest project GIS has taken on and we could not have made it this far without support. We are lucky to have so many thoughtful, diligent, creative, and open minded parent volunteers working on the committees to make this happen. Thank you to the Building Committee: Robert Glatz, Micha Ramsey, Marcus Eyth, Mark Newman, Jody Yates, and Blake Peters. The Design Committee: Shawn and Britta Bavaresco, Tom and Natalie Bell, and Taylor Quinn and Sonja Niess. The Finance Committee: Ulrike Weiler, Robert Glatz, Carsten Schemel, Jackie Ortega.  The GIS Board of Directors.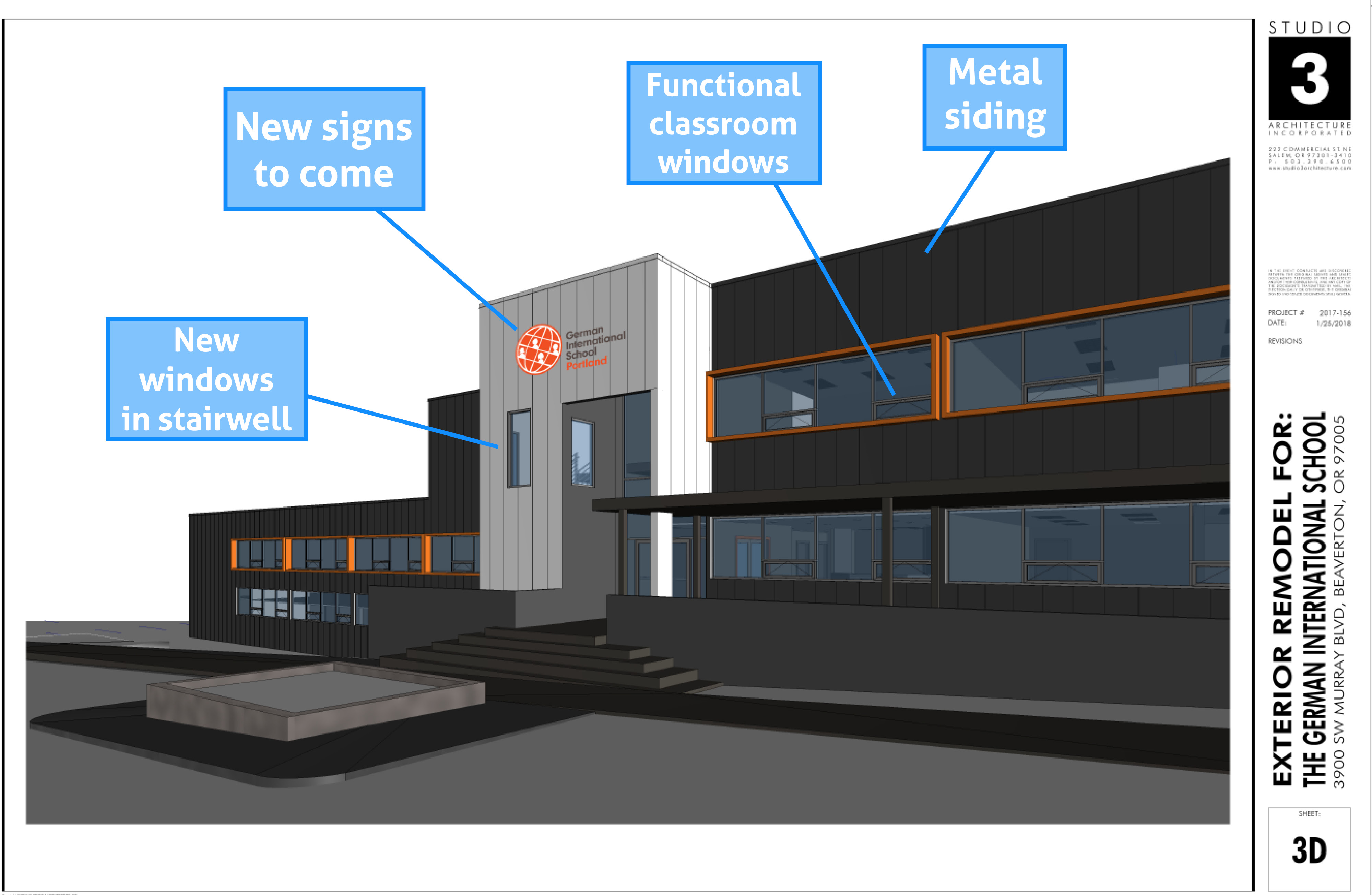 Frequently Asked Questions
Will Kindersommer 2018 be held on campus?
Not this year! Our summer camps will be held at Beaverton Christian Church* at 13600 SW Allen Blvd. Beaverton, OR 97005. Check out our  Kindersommer 2018 page for more information!
*The one exception is Soccer Adventure Camp, which will be held July 16th - 20th at Tektronix field located at 14150 SW Karl Braun Dr. Beaverton, OR 97005.
What happens if the exterior remodel runs longer than expected?
We will be starting siding demolition before school gets out. Impacts to the children's environment will be kept as minimal as possible. There may be temporary changes to the parking lot, particularly on Mondays/Wednesdays/Fridays, to allow for construction and school access to safely and steadily move forward. According to the construction schedule, school will be able to start on time, even if the work is not complete. Windows will be in, so work could progress while school is in session, if needed.
Can families come on site during construction?
Nope! Due to safety reasons, we can't have our families coming on and off campus. But, we definitely encourage you to drive by every once in a while and see the progress!
Is the school seeking rebates from the Energy Trust of Oregon?
Yes, if it doesn't change the schedule of the project. We are working with a consultant to pursue any and all Energy Trust rebates for the project. However, if the process for ETO will delay the construction project, and impede us from opening on time, we will skip the rebate and make sure we launch on time for the 2018 - 2019 school year.
Will Germany cover any further expenses?
Possibly! We've applied and are seeking approval for multiple projects related to the exterior remodel (totaling up to $80,000). Because these have not yet been approved, we have not included them in our budgeting.
Does the current plan and cost include additional security features and seismic upgrades?
The seismic upgrade recommendations from the structural engineer's report are included in the contractor's price. Security cameras, fencing along the back of the lot and an intercom system are in the budget of items the school may or may not choose to do. The building committee is reviewing these items. We requested additional funds from Zentralstelle für das Auslandsschulwesen (ZFA) which may (hopefully soon) confirm an amount to support this, which would then be factored into the overall project. If not, the building committee will assess and proceed accordingly.
What will happen with the flags?  
For now the flags will come down. However, they will be back eventually. We all agree that our flags are an external representation of who we are as a community. For now, we are focused on getting the siding, windows, and roof replaced.  New signs, the flags, and other improvements are already being dreamed of and planned for.
Why doesn't the building owner cover these expenses?
Our lease agreement, which includes a below market purchase option, makes the school responsible for everything regarding maintenance, improvements, and all other aspects of building operations.
Why are we doing this project now?
In 2016 the Building Committee did a full appraisal and exploration of the building and site. The windows, roof, and siding are all original and, at that point, became top maintenance/improvement priorities. The plan was to do minimal upkeep on these items while internal program areas were improved (flooring, upstairs classrooms, expanded playground space and materials). Since 2016 we have been working to build reserves, apply for grants, and do due diligence on this project. 
Will these improvements reduce overall operating expenses?
Yes. However, we don't yet know how much specifically. Installing modern windows, siding, and roofing materials will assuredly lower utility costs compared to our current rate. It will take some time to determine a clear comparison. 
Will the students, staff, and families be safe during the renovation project?
Safety is our top priority. Construction crews will not be on the playground areas during school hours until after June 22.  However, to set ourselves up for a timely project completion, there will be equipment and workers around the perimeter of the building. All possible care will be taken to block off areas, notify, and redirect foot and car traffic to avoid any accidents.  Please be extra careful when dropping off or picking up your children during this time as crews will be on site working.